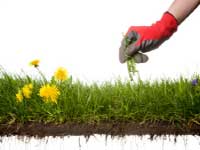 One thing that many people over look, and it could drastically increase the value of their home is the landscaping surrounding their house.

By spending some money upfront and then a little money monthly for maintenance and upkeep, a yard could look perfectly manicured with various plant indigenous to your area and depending on how much you would like to spend, various extras such as a Japanese fish pond or a beautiful gazebo with a deck or patio.

The first thing a homeowner should consider is flowers and color – which should be sprinkled throughout the yard. Consider blanketing the yard with various flowering plants like impatiens, petunias and other small annuals that flower throughout the growing season.

Remember, a couple of larger plants have more 'curb appeal' then 15 or so little ones. Mix it up a bit and combine both large and small plants here and there. And who says you have to stay close to the house or the edges of the lawn? Start around the edges but placing plants throughout different areas of the property, this will add a depth of field making the house look further back from the street than it really is.

A professional landscaper will have the knowledge needed to know which plants work best for what type of climate in addition to being able to tell where a plant, tree or shrub helps with drainage and water run-off or soil erosion problems if they are a concern.

If a homeowner is going to do their own landscaping, then there are countless books at their local library or bookstore on landscaping which will give them plenty of ideas they can incorporate into their style and size lawn. Planting one section at a time is a good idea because you don't want plants to wither and die in their buckets before they are properly planted in the ground and this could happen while they are waiting their turn if a homeowner is a first time landscaper and taking their time.

Don't forget the backyard. The front yard is typically a showplace and the backyard should be a private oasis to be enjoyed or celebrated with family and friends. A privacy fence is not as expensive as one might think and will keep noisy neighbors from intruding on your peaceful backyard relaxation.

Many people are having small to medium sized ponds, some with fountains, place in their backyard for a clamming place to sit next to, some even large enough to swim in. Water foliage is pretty much low maintenance and depending on what part of the country the home is located in, some of the pond could be left running year round, others need to be drained and covered for winter weather.

Whether you are going to consult a professional landscaper or use one of the new landscaping design programs that allow a person to download a photo of their house and manipulate the image with various landscapes, a landscaping project will take time and patience to achieve exactly what you want from your property.